Buna Nitrile O-Ring Material Description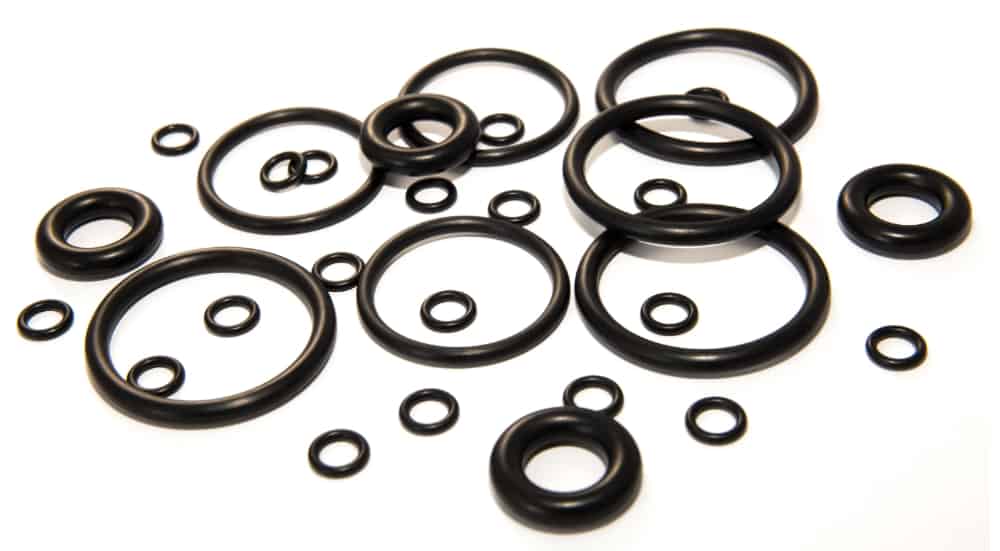 Nitrile rubber (NBR) o-rings, also known as Buna-N, are one of the most commonly used sealing elastomers due to resistance to petroleum-based fuels and lubricants and its relatively low price. Nitrile elastomers are copolymers of acrylonitrile and butadiene. There are a number of common variations of nitrile compounds. Nitrile o-rings may also come in a metal detectable variation, while retaining the same qualities as the general Nitrile o-ring compound.
For applications requiring o-rings with high visibility, High-Visibility Nitrile o-rings are recommended. High-Visibility o-rings maintain properties identical to its original compound, with the addition of a distinguishable neon green hue.
Acrylonitrile Content
The acrylonitrile (ACN) content of the polymer chains can vary from 18% to 50%. Lower ACN content gives better low-temperature properties but inferior resistance to fuels and polar lubricants. Higher ACN content gives lesser quality low-temperature properties but improved fuels and polar lubricants resistance. Standard NBRs typically have 34% ACN content.
Cure System: Sulfur-Cured & Peroxide-Cured
Standard Nitrile o-rings are usually sulfur-cured. Sulfur-cured compounds offer better low-temperature properties but are more prone to hardening with high temperatures. Peroxide-cured nitrile o-rings have better heat resistance and lower compression sets but are more expensive and more difficult to process. Standard materials in stock include sulfur-cured 70 & 90 durometer (N70, N90) and peroxide-cured 90 durometer (N90PC).
Temperature Range (Typical Compounds)
Sulfur-Cured:
Standard Low Temp: -35°C (-31°F)
Standard High Temp: 120°C (248°F)
SPEC SHEET: Nitrile 70 Durometer
SPEC SHEET: Nitrile 75 Durometer – Metal & X-Ray Detectable
SPEC SHEET: Nitrile 90 Durometer
SPEC SHEET: Nitrile 90 Durometer – High-Visibility
Peroxide-Cured:
Standard Low Temp: -29°C (-20°F)
Standard High Temp: 135°C (275°F)
SPEC SHEET: Nitrile 90 Durometer – Peroxide-Cured
Low-Temp Buna Nitrile O-Rings:
N70LT Low Temp: -55°C (-67°F)
N70LT High Temp: 100°C (212°F)
SPEC SHEET: Nitrile 70 Durometer Low-Temp
SHOP FOR BUNA (NITRILE) O-RINGS
SHOP FOR LOW-TEMP BUNA (NITRILE) O-RINGS
Preferred Environments to Use Buna Nitrile O-Rings
Performs Well In:
Petroleum-based oils and fuels
Aliphatic hydrocarbons
Vegetable oils
Silicone oils and greases
Ethylene glycol
Dilute acids
Water up to 100ºC (212ºF)
Doesn't Perform Well In:
Aromatic hydrocarbons
Automotive brake fluid
Chlorinated hydrocarbons
Ketones
Ethers
Esters
Phosphate ester hydraulic fluids
Strong acids
Ozone, weathering, and sunlight