The Highest Quality O-Rings Available When You Need Them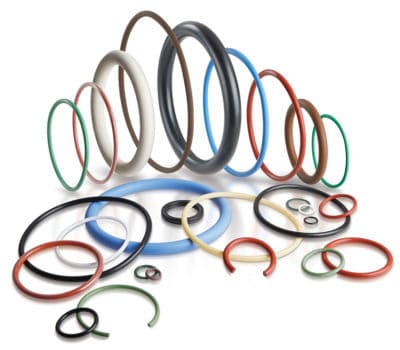 With one of the largest inventories of o-rings, cord stock, and related seals (square rings, x-rings, backup rings, and more) in North America, we're committed to providing the right product at the right price to every customer. Our technical sales team is experienced and knowledgeable about o-rings and their application. Because of this, we provide customers with guidance that ensures the optimal solution.
Not sure what you need? Let us help. 
Global O-Ring offers the full line of AS568 Size O-Rings in the following materials:
View our AS568 Size Chart for a full listing of all sizes and dimensions.
What is an O-Ring?
An o-ring is a round, mechanical gasket designed to be seated in a groove and compressed during assembly between two or more parts, creating a seal at the interface. O-rings are one of the most common types of seals because they're inexpensive, reliable and have simple mounting requirements. Since they are known as one of the most important elements of machine design, o-rings may be used in static applications, where little range of motion is required. O-rings may be used in dynamic applications, like rotating pump shafts and hydraulic cylinder positions, also. (See O-ring size chart)
Material:
Material matters. Due to this, selecting an o-ring material for a specific application is dependent on many criteria, including what's being sealed, temperature range, pressure, dynamic or static service, desired service life, installation considerations, tolerances and many more. To learn which o-ring materials will work best in your application, review our Material Selection Guide.
Durometer:
Determining durometer isn't hard.  The hardness of rubber compounds is measured by the Shore A durometer; the higher the durometer, the harder the compound. In addition, softer compounds stretch easier and seal better on rough surfaces. Harder compounds offer greater abrasion resistance and resistance to extrusion. To learn more about durometer, click here.
Color:
There's more to o-rings than meets the eye. Specific color standards are routinely used to help visually identify the type of o-ring installed for certain industries. Because of this, we stock o-rings in the most common colors, materials and compounds. View our colors here.
Metric O-rings:
Global O-Ring and Seal offers a large selection of Metric O-Ring sizes in various compounds. A "Metric O-Ring" simply means that the size of the o-ring is defined in millimeters. Learn More.
Custom Molded O-Rings:
Beyond our huge inventory of more than 50 million o-rings in all standard materials and sizes, if you're looking for a custom size o-ring for any cross sections larger than the AS568 400 Series (.275" CS) and/or an ID larger than the largest ID for that series, we're your go-to provider. Learn More.