Custom Molded O-Rings – Designed With You in Mind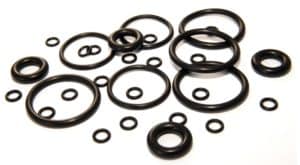 Global O-Ring & Seal is the All-Around Better choice to work with for all of your o-ring and sealing needs. Why? Because we've got a huge inventory of more than 50 million o-rings in all standard materials and sizes. If you're looking for a custom size o-ring for any cross sections larger than the AS568 400 Series (.275" CS) and/or an ID larger than the largest ID for that series, we're your go-to provider.. And if we don't have what you need in stock, we'll get it. We also offer custom molded o-rings when a customer requires a unique size that is not part of one of the standard AS568 or Metric size charts.
We can offer any o-ring in any size, color, hardness, material… with NO setup charges or minimum order quantity. We pride ourselves on making the entire purchasing process simple, flexible, efficient, and pleasant as possible for our customers, which is why we go the extra mile to track down any custom o-ring order you need. Don't believe us? Put us to the test and let us do the hard work for you.
If your application calls for a non-standard size, and vulcanized is not a good option, then we will offer Custom Molded O-Rings.
Generally, the procedure for ordering a custom molded o-ring is as follows:
Customer sends us a sample, drawing, and/or dimensions for the part, along with material, color, and hardness requirements.
Global O-Ring will quote the part, along with a one time setup fee (if applicable)
Once customer sends us the order, we will start on first article samples.
Upon approval, we will begin production and ship the parts according to customer's schedule.
Global O-Ring & Seal stocks over 10,000 sizes of o-rings on our shelves in both American Standard (AS568) and Metric sizes. If we don't have the right size for your application, we'll customize a solution just for you!