The Highest Quality Vulcanized O-Rings in the Industry
We Stock Hundreds of Cord Varieties for Every Application
Vulcanized o-rings are made from cut cord stock with both ends fused together, and are a great option for static sealing applications. We apply a liquid form of the uncured material to the ends and join them together in a heated mold. The heat and pressure cause the liquid material to cure and form a chemical bond between the ends with cross-links between the long-chain molecules. We inspect 100% of the vulcanized o-rings we produce before they leave our shop to make sure the material is free from defect and the joint is clean and strong. For nonstandard sizes in dynamic applications, we can produce custom-molded o-rings.
What We Offer
Global O-Ring and Seal carries nearly 500 cord varieties with more than 1 million feet of cord in stock – in combinations of the profile, material, cross-section, durometer, and color. We can produce vulcanized o-rings in round, square, X profiles, and custom profiles.
Standard materials we vulcanize include Buna (Nitrile), Viton® (FKM), Aflas, Neoprene, EPDM, Neo/EPDM Blend, Silicone, and Fluorosilicone.
The cord can be Butt Cut or Bevel Cut. Butt Cut is a straight 90º up-down cut. Bevel Cut, also known as skive cut, slices at a 45º angle, giving more opportunity for surface area contact and added tensile strength. To see more details regarding our cord tolerances, click here.
Our Vulcanized O-Ring Calculator automatically calculates the necessary dimensions of a vulcanized o-ring based on cross-section and any other known dimensions such as ID, OD, MD, and cut length.
SHOP FOR VULCANIZED O-RINGS
For more information, quotes, expert consultation, or to place an order, call 832-448-5550 or submit the Product Inquiry Form.
Continuous Improvement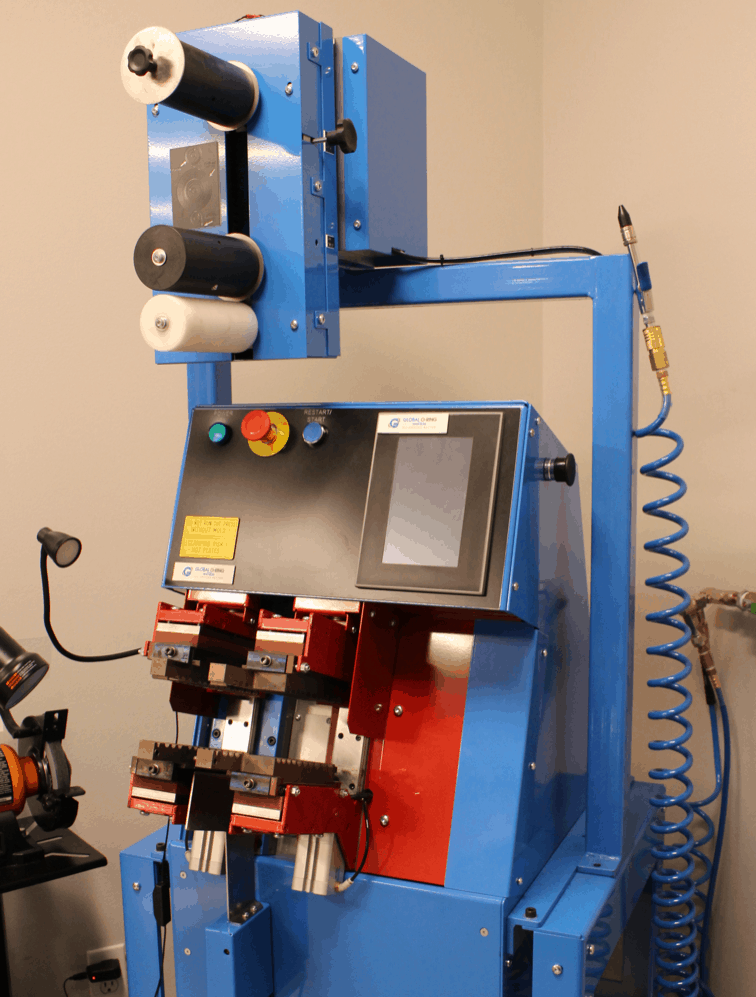 We continue to invest to be the best. In doing so, we've added equipment such as an automatic cutting machine and computer-controlled vulcanizing machines to further grow in our vulcanization capabilities and production.
Whether your cord is cut automatically or manually, you can be assured we meet or exceed industry tolerance standards.
Quality Testing
Each o-ring is individually inspected for fit and finish before leaving our vulcanize shop. Routine samplings of vulcanized products are stretched by our pull tester until failure. Tensile strength, breaking force, and ultimate elongation are recorded and analyzed.
In regularly performing these tests, Global O-Ring and Seal can audit and refine the vulcanization process and continue delivering the highest quality o-rings possible.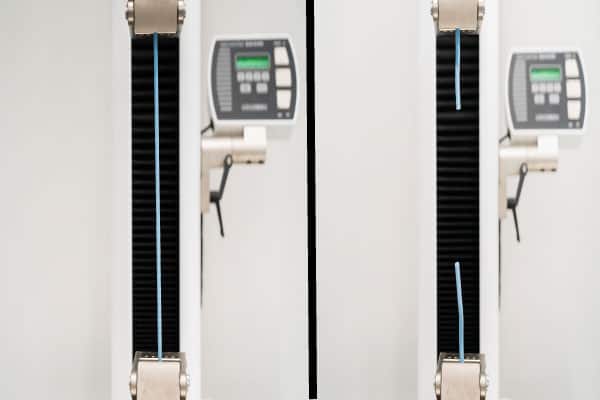 Inspection Procedure
Utilizing the right adhesives, vulcanized press/molds at the correct temperature, and cure times provide the opportunity to vulcanize a joint so it exceeds stated specifications. More so, the workmanship is just as important to ensure the end product is of the highest quality. Global O-Ring and Seal inspects 100% of every ring we manufacture to ensure workmanship standards are met and the product you receive will work as promised. Below, are the inspection steps taken with each vulcanized ring.

No vulcanized ring leaves our shop if it hasn't passed inspection. Each ring is exercised for twist and pull strength. After exercising the ring, it is thoroughly inspected under a magnifier to confirm no cracks or pinholes have been created. The detection process involves bending the ring just slightly while inspecting for flash, pinholes, and any other nonconformities. As shown in the picture below, it is not recommended to excessively bend the ring, as it is not meant to be bent in its application. Bending the ring creates a cantilever effect, magnifying the tensive force on the outer edge of the ring. This leads to damage of the joint.

Vulcanization Capabilities