Cam and Groove Gaskets

Camlock gaskets (also called cam and groove gaskets) are engineered to stop leakage while undergoing a variety of compression levels. Global O-Ring and Seal offers camlock gasket seals in Buna (Nitrile), Viton, EPDM, Silicone, FEP/PFA Encapsulated, and more!
If you have any questions or would like to request a quote, please submit our form with your specifications and we will respond to your request within 1 business day.
SHOP FOR CAMLOCK GASKETS
Camlock Gasket Dimensions & Sizes
Dimensions of camlock gaskets are defined by inside diameter (ID), outside diameter (OD), thickness (TH). Thickness is also referred to as the width or the height of the camlock gasket. Sizes and materials can be tailored dependent on customer requirements. Standard diameter sizes are listed in the chart to the right. We are able to provide non-standard sizes by request.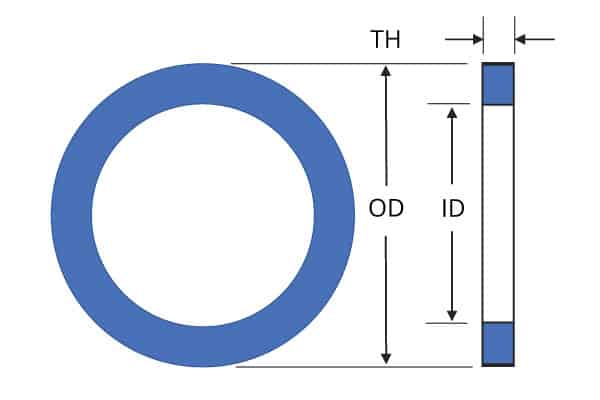 Camlock Gasket Size Chart
SIZE
Fractional
Numeric
(Inch)
ID
OD
TH
ID
OD
TH
1/2″
11/16
1 1/32
5/32
0.688
1.031
0.156
3/4″
7/8
1 3/8
7/32
0.875
1.375
0.219
1″
1 1/16
1 9/16
1/4
1.063
1.563
0.250
1 1/4″
1 3/8
1 15/16
1/4
1.375
1.938
0.250
1 1/2″
1 5/8
2 3/16
1/4
1.625
2.188
0.250
2″
2
2 5/8
1/4
2.000
2.625
0.250
2 1/2″
2 3/8
3 1/8
1/4
2.375
3.125
0.250
3″
3
3 3/4
1/4
3.000
3.750
0.250
4″
4
4 7/8
1/4
4.000
4.875
0.250
5″
4 7/8
5 15/16
1/4
4.875
5.938
0.250
6″
6
7 1/16
1/4
6.000
7.063
0.250