End Caps Overview
Global O-Ring and Seal offers over 200 sizes of corrosion-resistant end caps (also known as plugs) designed for applications where the rotary shaft does not pass through the housing wall of the bore. End caps protect the bearings. The covers are designed to fit into the bore with the same tolerance as the OD of an oil seal. The end cap is made of metal with a nitrile rubber cover on the outside. Alternative materials and additional sizes may be supplied upon request.
SHOP FOR END CAPS
End Cap Part Numbering System
Global O-Ring and Seal's end cap part numbers are designed to describe the outside diameter (OD) and width in millimeters. As an example, the graphic below displays the part number for an end cap with an outside diameter of 22 millimeters and a width of 4 millimeters.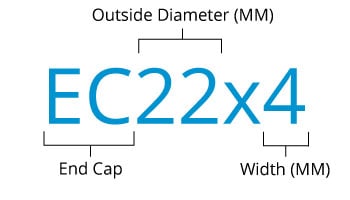 For more information, or to request a quote, please submit the Product Inquiry Form or give us a call at 832-448-5550.