DIN 3869 Profile Ring Description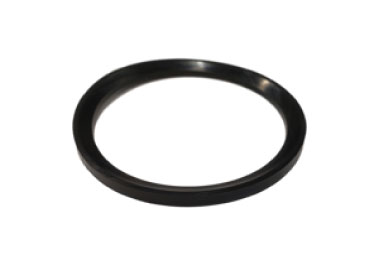 DIN Profile Rings, according to DIN 3869 are used as axially static soft seals in combination with threaded elements. Common applications include construction machinery, hydraulic presses, injection machines, fittings, hydraulic valves, and threaded tube connections in general industry.
The special shape of Profile Rings enables them to be used in high-pressure applications, compensate for manufacturing tolerances, and provide reliable sealing action.
| Compound | Profile Image | Material | Durometer | Color | Temp Range |
| --- | --- | --- | --- | --- | --- |
| N85 | | NBR (Buna-N, Nitrile) | 85 Shore A | Black | -30 to 100ºC (-22 to 212ºF) |
| V80 | | Viton (FKM) | 80 Shore A | Green | -20 to 200ºC (-4 to 392ºF) |
| E80 | | EPDM | 80 Shore A | Purple | -45 to 150ºC (-49 to 302ºF) |
DIN 3869 Profile Ring Size Chart
| Nominal Size (mm) | Thread (metric) | Thread (inch) | ID | OD | T +/- 0.1 | T1 +/- 0.2 |
| --- | --- | --- | --- | --- | --- | --- |
| 8 | M8 x 1.0 | | 6.5 | 9.9 | 1 | 0.5 |
| 10 | M10 x 1 | G 1/8 A | 8.4 | 11.9 | 1 | 0.5 |
| 12 | M12 x 1.5 | – | 9.8 | 14.4 | 1.5 | 0.8 |
| 14 | M14 1.5 | G 1/4 A | 11.6 | 16.5 | 1.5 | 0.8 |
| 16 | M16 x 1.5 | – | 13.8 | 18.9 | 1.5 | 0.8 |
| 17 | – | G 3/8 A | 14.7 | 18.9 | 1.5 | 0.8 |
| 18 | M18 x 1.5 | – | 15.7 | 20.9 | 1.5 | 0.8 |
| 20 | M20 x 1.5 | – | 17.8 | 22.9 | 1.5 | 0.8 |
| 21 | – | G 1/2 A | 18.5 | 23.9 | 1.5 | 0.8 |
| 22 | M22 x 1.5 | – | 19.6 | 24.3 | 1.5 | 0.8 |
| 24 | M24 x 1.5 | | 21.8 | 26.9 | 1.5 | 0.8 |
| 27 | M26 x 1.5 / M27 x 2.0 | G 3/4 A | 23.9 | 29.2 | 1.5 | 0.8 |
| 30 | M30 x 1.5 | | 27.7 | 32.7 | 2 | 0.8 |
| 33 | M33 x 2.0 | G 1 A | 29.7 | 35.7 | 2 | 1 |
| 38 | M38 x 1.5 | | 35.9 | 43.2 | 2.4 | 1 |
| 42 | M42 x 2.0 | G 1 1/4 A | 38.8 | 45.8 | 2 | 1 |
| 48 | M48 x 2.0 | G 1 1/2 A | 44.7 | 50.7 | 2 | 1 |
| 60 | M60 x 2.0 | G 2 A | 56.5 | 66.1 | 4 | 2 |