Global O-Ring and Seal's Encapsulated Viton and Silicone O-Rings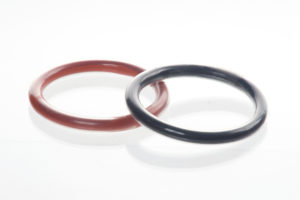 This o-ring can be comprised of a Teflon® jacket encapsulating a solid core of Viton® (TEV) or Silicone (TES). It can also be comprised of a Teflon® PFA jacket encapsulating Viton® (PFAV) or Silicone (PFAS). Encapsulated o-rings outperform traditional elastomeric o-rings in hostile environments through their excellent chemical resistance and mechanical properties over a wide temperature range. They surpass the performance of solid Teflon® o-rings because they have both compression and recovery.
Our standard encapsulated o-rings are exceptionally resilient. Depending on the core material, they are suitable for operating temperatures from -62° to 204°C (-80° to +400° F). Encapsulated o-rings resist almost all chemicals and retain their mechanical properties even during long, hostile exposure. They also have excellent dielectric properties, a low coefficient of friction, flexibility, weather resistance, toughness, and negligible moisture absorption.
Solid or Hollow-Core Design:
Standard encapsulated o-rings are supplied with either solid Viton® or Silicone energizers. Solid core energizers provide the best resistance to compression set and the best "recovery." Hollow-Core o-rings provide effective sealing where a more flexible and easier to squeeze o-ring is required. Global O-Ring and Seal's standard product is solid core but hollow-core is available by request.
Jacket Type
The outer jacket of encapsulated o-rings can be made from one of two materials: FEP or PFA:
FEP (fluorinated ethylene propylene) – FEP-jacketed o-rings offer excellent resistance to a broad range of corrosive chemicals, including alcohols, aromatic solvents, naphtha, acids, and petroleum spirits. They also have a low compression set and coefficient of friction. The operating temperature range of encapsulated o-rings with FEP jackets is -60°C to +205°C (-76°F to +400°F). FEP-jacketed o-rings are FDA, USP Class VI, and 3A Sanitary compliant. These are designated by the compounds TEV for Viton and TES for Silicone.
PFA (perfluoroalkoxy-copolymer) – PFA possesses many of the same properties as FEP. Plus, it exhibits higher mechanical strength and better resistance to stress and cracking. Encapsulated o-rings with PFA jackets are typically used in applications where extreme thermal stability and durability are required. They are suitable for use in operating temperatures ranging from -60°C to +260°C. (-76°F to 500°F) and typically have a longer service life. PFA-jacketed o-rings are FDA, USP Class VI, and 3A Sanitary compliant. These are designated by the compounds PFAV for Viton and PFAS for Silicone.
The Right Encapsulated O-Ring is Application-Specific
Choosing the properly encapsulated o-ring will largely depend on the specific needs of the application. Global O-Ring and Seal carries a full line of encapsulated o-rings in all AS568 standard sizes. Custom sizes are available upon request — as are o-rings with rectangular, oval, and square cross-sectional profiles.
If you are in need of a custom solution contact us today to speak with one of our technical sales professionals.
Encapsulated O-Ring Installation Guidelines:
Encapsulated o-rings consist of an elastomeric core of Silicone or Viton with a thin FEP/PFA encapsulation layer.
The FEP/PFA encapsulation is a hard material with limited flexibility compared to the fully elastomeric o-ring inside. The encapsulation outer layer can be damaged during installation with excessive stretch or sharp edges on the part.
Heating the o-rings prior to installation and ensuring installation surfaces are free from sharp edges are two key factors in a successful installation.
Encapsulated O-Ring Heating Methods
Hot Water (Recommended)
Heat water to 100°C / 212°F
Place rings in water for minimum of 3 minutes
Remove rings just prior to installing them
If the rings get cool, reheat to installation is done while still warm
Oven Heating
Set oven to 100°C / 212°F (ensure no excessive temp. fluctuation)
Place rings evenly on backing sheet
Heat rings for a minimum of 15 minutes (no maximum time limit)
Install ring immediately after removing from oven
If the rings get cool, reheat to installation is done while still warm
* Teflon® and Viton® are Registered Trademarks of the Chemours Company.
SHOP FOR VITON ENCAPSULATED O-RINGS