Extreme Viton® O-Rings Overview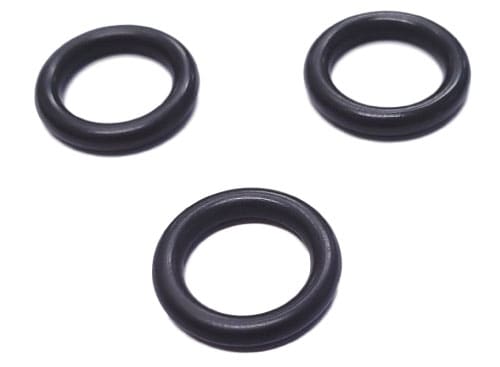 Extreme Viton® o-rings are a copolymer of ethylene, tetrafluoroethylene, and perfluoromethylvinyl ether, otherwise known as Viton® ETP. Viton® ETP o-rings maintain the strong chemical resistance of standard Viton® o-rings, with the added capability of withstanding ketones, esters, and aldehydes of low molecular weight. Viton® ETP o-rings are frequently utilized in the oil and gas, aerospace, and automotive industries.
Global O-Ring and Seal's Viton® ETP o-rings are peroxide-cured and supplied in 75 durometer. If you would like more information or to request a quote on Viton® ETP o-rings, please give us a call at 832-448-5550 or submit the Product Inquiry form.
Advantages of Viton® ETP O-Rings:
With built-in protection against highly acidic fluids and base materials, Viton® ETP o-rings are not made to swell or lose their compression set when facing aggressive solutions, amines, and hot water. Additionally, the elastomer's flexibility is effectively maintained at low temperatures. With outstanding resistance versus harsh chemicals, Viton® ETP's performance is similar to that of FFKM (perfluoroelastomers), but at a lower price point.
Viton® ETP O-Ring Temperature Range
Standard Low Temp: -15ºC (5ºF)
Standard High Temp: 220ºC (428ºF)
SPEC SHEET: Viton® ETP 75 Durometer
*Viton® is a registered trademark of The Chemours Company.
SHOP FOR VITON® ETP O-RINGS
Preferred Environments to Use Viton® ETP O-Rings
Performs Well In:
Low molecular weight esters, ketones, and aldehydes
High pH fluids and base materials
Synthetic/Mineral lubricants
Petroleum products
Fuel or blend with methanol or ethanol
Diesel or blend with biodiesel
Mineral oil and grease
Silicone oil and grease
High vacuum
Ozone, weather, and very high temp. air
Strong acid
Doesn't Perform Well In:
Low molecular weight organic acids (formic and acetic acids)
Superheat steam
Phosphate ester-based hydraulic fluids – Skydrol®