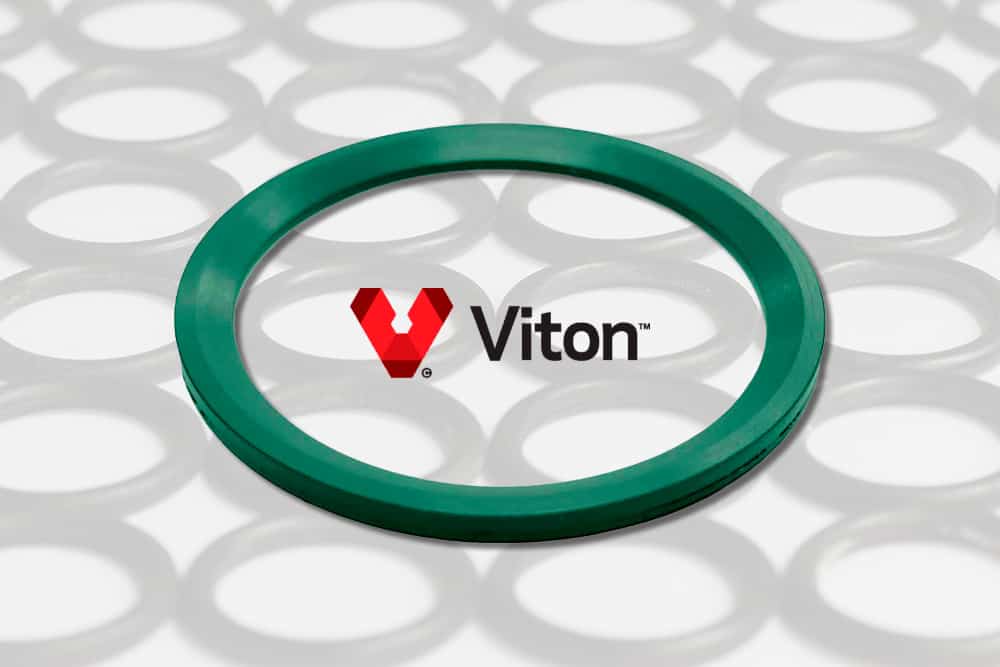 Viton® o-rings are also referred to as FKM o-rings since they are made of fluorocarbon elastomers. FKM is short for Fluro-Elastomer and is a copolymer made of highly fluorinated hydrocarbons. However, not all FKMs are genuine Viton® o-rings.
This post will walk you through a series of questions, and the answers will help you make a more informed decision. We will use the term Viton® (FKM) to avoid any confusion.
Viton® was introduced in 1958 and originally developed by DuPont. It is a trade name for the Chemours brand of fluorocarbon. FKM is a family of fluorocarbon-based fluoroelastomer materials defined by ASTM International standard D1418, and ISO standard 1629.
Fluorocarbon is also known as FKM. Chemours is not the only company that manufactures FKM products. And therein lies the confusion. Not all FKM o-rings are genuine Viton® o-rings.
What is the difference between Genuine Viton® vs. generic FKM o-rings?
Even though people in the industry use FKM and Viton interchangeably, they are not the same. O-rings and sealing products not made from 100% virgin Chemours Viton® may fall short of the performance levels expected from the stringent quality standards Chemours has set for Viton®.
Another difference is in the curing process. Standard FKM o-ring compounds are bisphenol-cured. FKM o-ring compounds with peroxide-cured possess better acid solution resistance than the bisphenol-cured and can replace litharge-cured applied in acid solutions.
In some lubricants, adding a few organic amides or amines or choosing peroxide-cured system Viton® o-rings will be better than bisphenol curing systems.
How do you know you are getting genuine Viton® (FKM) o-rings?
You have to know to ask! Ask your supplier if they carry genuine Viton® (FKM) o-rings. Can they provide an official Viton® Licensee Certificate?
Only manufacturers who have signed a formal agreement with Chemours can use this seal on their products. These manufacturers undergo a stringent qualifying process where they must demonstrate their knowledge, be well-versed with the quality standards, and be able to help select the right Viton® product for an application.
At Global O-Ring and Seal, we make it easy for our customers. All our Standard AS568 Viton® o-rings are available in Genuine Chemours Viton®…not a generic FKM.
What does the "Made With Genuine Viton®" seal mean, and why is it important?
The seal means the parts were manufactured and distributed by strictly following Chemours guidelines. Only parts made with 100% virgin Viton® as the sole elastomeric component are labeled with this seal.
The "Made With Genuine Viton®" guarantees product integrity. When products carry this emblem, compliance with OSHA Mechanical Integrity Section 1910.119 is assured. In addition, the seal means that the parts offer the superior performance that only Chemours Viton® fluoroelastomer provides. Other fluoroelastomer parts may include blends and other rubbers that deliver lower heat and fluid resistance performance.
Always insist on 100% virgin Viton® and look for the "Made With Genuine Viton®" seal.
What are the performance characteristics of Viton®?
Excellent resistance to heat and oxidation
Outstanding weathering, and resistance to ozone
High resistance to a wide variety of fluids, including aliphatic and aromatic hydrocarbons, halogenated fluids, strong acids
Good mechanical properties and resistance to compression set, providing superior sealing performance and longevity unmatched by any non-fluorinated elastomer
Standard Low Temp: -26°C (-15°F)
Standard High Temp: 232°C (450°F)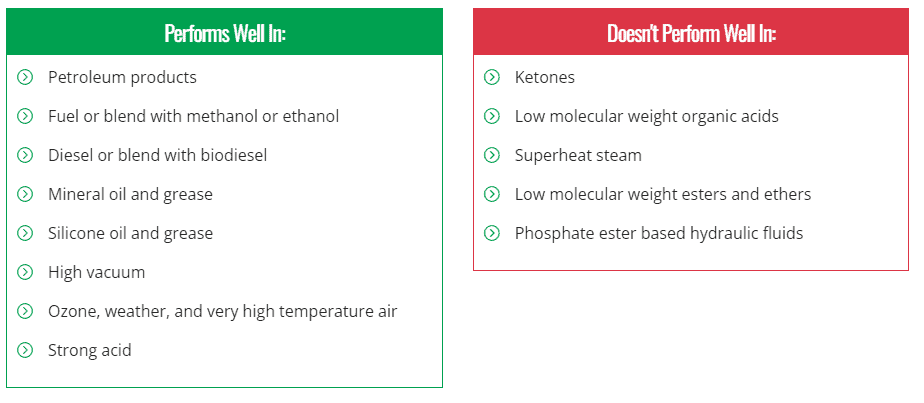 What are the typical applications of Viton® (FKM) o-rings?
Harsh operating environments demand sealing products made with Viton® because they maintain their shape, flexibility, and seal when exposed to corrosive chemicals and high temperatures. In addition, reliable performance and reduced downtimes are required in many applications across various industries. Here are just a few:
A unique application is High-Visibility Yellow Viton® o-rings which maintain properties identical to its original compound, with the addition of a distinguishable neon yellow hue. These are typically used in downhole drilling for the Oli & Gas industry.
Are there variations of Viton®?
Yes, there are variations within Viton®. These include:
Viton® general type A (66% fluorine)
Viton® middle fluorine content type B (B, GBL: 67 to 68.5% fluorine)
Viton® high fluorine content type F (F, GF: 70% fluorine)
Viton® type GLT and GFLT for improving low temperature flexibility
Viton® Extreme (a.k.a. Viton® ETP) for excellent resistance to more chemicals and solvents.
For excellent acid and alkali resistance, look for parts made by Viton® TBR. Viton® o-rings may also be available in a metal-detectable variation while retaining the same qualities as the general Viton® o-ring compound.
How do I specify the right Viton® (FKM) o-ring?
A well-written specification will go a long way in avoiding miscommunication between you and the supplier. Ensure you clearly communicate your application(s) and make sure that the supplier is current in their knowledge and can guide you in selecting the right Viton® (FKM) o-ring.
We have published several selection guides and spec sheets to help you choose the right product. Download them using these links.
Viton® (FKM) provides many benefits, including its chemical compatibility and resistance to a range of petroleum products, temperatures, ozone, oxygen, mineral oils, fluids, and many solvents and chemicals. In addition to its good wear resistance, compression set resistance, permeation resistance, and reliability. O-rings made of genuine Viton® (FKM) deliver excellent value to customers.
SHOP FOR VITON® O-RINGS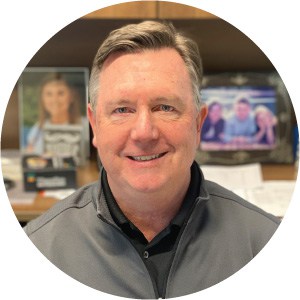 Jeff is the Vice President, Sales and Marketing at Global O-Ring and Seal. He has worked for several high-tech companies leading Sales, Marketing, and Product Management teams. Jeff is adept at strategic marketing and sales and is an experienced executive excelling at driving customer loyalty and revenue by creating innovative products and services and deploying digital technology to customer-facing touchpoints. He has a BS degree in Mechanical Engineering from the University of Minnesota and an MBA from St. Thomas University (Minneapolis). See his full bio on Our Team page.