At Global O-Ring and Seal, we strive daily to exceed our customers expectations and we know the only way to do so is to fully understand their needs, translate those needs into a vision of desired outcomes and build a business operating system to execute that vision. We are certified to and meet all requirements of ISO 9001:2015. But a robust quality system is so much more than just a certificate or a book on the shelf. We are constantly monitoring the business landscape and challenging ourselves to be the best at what we do.
To fully understand and appreciate what ISO 9001 is, it is important to first look at the history and evolution of how these processes came to be. The timeline below provides a quick visual representation of that evolution.

The beginning of ISO 9001 was formed in 1987 with what is known as the "say what you do" method. This first iteration was all about documenting your processes and drove the concept of repeatably preforming processes within the business. For many businesses, this was a huge task, but it at least provided a framework for thinking through documentation and training efforts. This initial version was a great place to start, but it was clear that there was plenty of room for continuous improvement.
The next real improvement to ISO 9001 came in 1994 with the "say what you do and do what you say" method. This amendment was one additional step forward in the transformation of many companies. Whereas before companies only had to document their procedures, now they would have to also provide a management system to ensure the "do what you say" requirements were being met. With both the "say what you do" and "do what you say" metrics working hand in hand, measuring quality had become streamlined.
With the new millennium came new changes to how companies were documenting their quality control. As soon as the early 2000s, ISO 9001 incorporated the concept of continuous process improvement. Eventually, large businesses saw the benefits to using ISO 9001 and began implementing quality programs of their own. A few examples of these programs include Deming/Juran/Crosby (Statistical Control, Pareto Principle, Zero defects), PDCA (plan-do-check-act), Toyota Production System, Six Sigma, and Lean. This continuous improvement of existing processes lasted as far as 2008.
Finally, in 2015 ISO 9001:2015 was released. By this time, a more complete and easier to understand approach to integrating quality management systems into the core of business strategy and risk mitigation was being realized. ISO 9001:2015 is less prescriptive (more adaptable to each unique business), more focus on achieving desired outputs. It increases focus on process management with an emphasis on outcomes.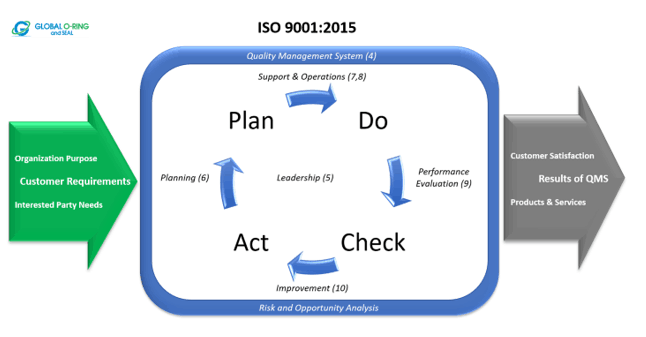 Global O-Ring and seal obtained their ISO 9001:2015 certificate in August of 2018. As a company that values quality control and is always looking for ways to improve business, we have seen the rewards in always putting our customers first. Our business continues to grow and evolve just like ISO 9001, and with the current version, we are getting closer to an ideal operating system. A system that can be customized to each business and provide the structure necessary to create customer-centric business strategies.
As ISO 9001 continues to advance, Global O-Ring and Seal plans to develop alongside. Quality control will always be a crucial part to any successful business and is a must in terms of great customer service. As the age of technology takes us into the future, documenting processes will only become easier, more organized, and most accurate. The history of ISO 9001 is a fascinating one, and it will be very exciting to see what will come next for the quality system.